Bamboo Concepts and Bamboo Solutions by Leimana Pelton ETC Hawaii
Let us provide you with the most appropriate designs, joinery systems and materials for natural sustainable shelters on our planet earth. Our structures are mainly built with natural bamboo poles because bamboo has superior characteristics and environmental benefits. We grow and harvest our own and other local producers of high quality timber species of clumping, non-invasive tropical bamboo so that you can have peace of mind under a natural shelter that you are doing your part to help the environment and surrounding yourself with the beauty of nature. All the materials we use are treated to last as long as possible. Properly maintained they will be here for generations to come. We'll provide you with the expertise, craftsmanship and design that, combined, guarantee, attractive durable results. Only one Asian bamboo has been included in the uniform building code.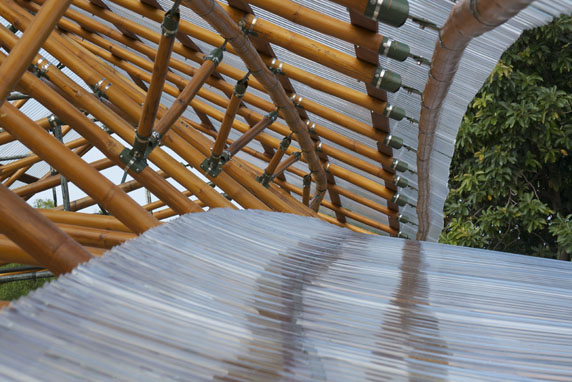 Bamboo specifics
Even though all of the locally grown treated bamboo we use has been structurally evaluated for strength and resistance to insect and fungal attack according to the highest standards, they have not yet been approved for inclusion in the uniform building code. We expect this will occur within the next two years, one species at a time at a very high cost. Therefore we are currently offering only "portable" structures that will none the less last for decades, but don't require regular building permits. We are also working with local government officials to adopt a low density building code for rural situations which will allow for sensible alternatives for shelter. EcoTerrestrial Concepts, LLC founder Leimana Pelton, studied with Simon Velez of Colombia who pioneered an industrial strength contemporary bamboo building system that has led the way for the unlimited possibilities of bamboo construction worldwide. Mr. Pelton has now developed a new high strength industrial joinery system that makes bamboo construction available to the western builders with higher labor costs, producing overall competitive prices with his easy to use system.
Eco Terrestrial Concepts and BAMBOO LINKS™
Eco Terrestrial Concepts is currently the exclusive user of the BAMBOO LINKS™ joinery system, during the pending patent approval period. Mahalo (Thank You) for visiting our web site. Please enjoy our photo galleries of production processes, structures, and CGI Images of future projects. Just open one of the pictures presented on our site and they will open in a Gallery view.
We look forward to working with clients and others who want to participate by example making living sensible and sustainable, naturally. We can help by providing bamboo plants, advice, design, and the structure YOU will need, or we will tell you where else to look.