Bamboo shoot to shelter - our bamboo process
E T C harvests our locally grown bamboo on the Big Island of Hawai'i. Our preferred species is Guadua Angustafolia. We also use Bambusa Hirose, Strictus, Brandesii, and others of high integrity. These timber species of tropical clumping bamboo have been tested as the most structurally sound for building timber. Eachbamboo pole must be properly treated before permanent use. We pressure treat with disodium octoborate to preserve the natural integrity of the pole, protecting it from insects and ensuring the longevity of the structures we build. For over 14 years, we have teamed with other local farmers in Puna to provide our clients with the best bamboo found on the Big Island. Our services include consulting and management with the farmers in exchange for pole removal; actually promoting additional growth within the clumps improving future harvesting potential.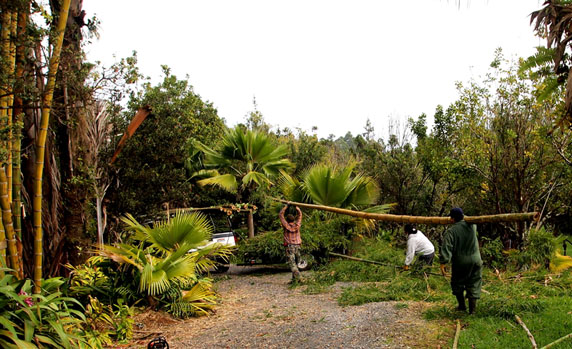 Harvesting
All the varieties that we harvest have been evaluated for their structural integrity at the University of Hawaii at Manoa Engineering Lab. Visit our sister organization, Bamboo Village Hawaii, Inc., for more information about the growing process. The mission of both organizations is to provide practical knowledge of this critically important sustainable building material through education by demonstration, and to produce enough bamboo timber to diminish the need for destroying our planet's tree ecosystems.
Bamboo is the easiest timber to harvest out of all the natural building materials. It strikes a balance between being a non-invasive plant yet it grows very fast. Harvesting Bamboo actually promotes healthy growth for the new shoots and culms, benefiting the environment in numerous ways. Just consider the fact that we don't use heavy machinery for harvesting or transporting poles as one of the many advantages. The rough-cut harvested poles are taken to our shop for pressure washing, center boring, and final trimming in preparation for pressure borate treatment (trim and drill). The borate salt treatment not only eliminates insect and fungal damage, it also makes the bamboo frame extremely fire resistant. We cure the poles under cover for one year before using them for structures to ensure minimal shrinkage and appropriate moister content to minimize cracking.
CONSTRUCTION PREPARATION PROCESS
Pole selection starts with the building requirements of the structure. Each structure will have various pole requirements based on their use in the shelter design; lengths, straightness, taper, and of course the appropriate diameter and wall thickness. After selection, each pole moves to the finishing process. We power sand the poles completely removing the skin to prepare them for the best possible adhesion. We apply two coats of Cetol by Sikkens as a semi clear exterior coating to stabilize and protect with a semi-gloss honey colored rich and most durable finish. After the coating has dried, we fit them with our Bamboo Links™ and prepare them for pre-assembly. (In small structures, we might pre-construct before we coat them.)
Framing – Joinery is the key to bamboo construction.
We are the exclusive users of Bamboo Links™; a patented joinery system invented by Leimana Pelton as a versatile solution to the high strength and unique characteristics of bamboo poles. The Bamboo Links™ are fitted and fastened by size to each pole intersection. The Bamboo Links™ system enables easy assembly and dismantling. This allows the Eco Terrestrial Concepts Team to build, disassemble, relocate and re-assemble with ease and precision; faster than any existing system – making it a class unto itself. Building Permits – Our local timber bamboo was tested under the same protocol as the Asian variety by the building code officials, but at University of Hawaii at Manoa. This comparison showed us better strength results for the local species; however, no building code change would be approved until the same tests are done at the official laboratory. This will involve a $60,000+ cost per variety and awaits the financial support of the sustainable building community. Our hope is that this process will be completed within the next two years. Here on the Big Island, there is an effort to introduce a more sensible code for low-density rural areas of the island, such as the code developed in Mendocino, California. This would allow the use of bamboo structurally without the need for the Uniform Building Code approval.
Hawaii county Mayor Billy Kenoi presides at the Pahoa Recycling Station Blessing and dedication under our HI5 Bamboo Shelter Portable Structures – We are focused on open shelter designs of all sizes. Fortunately, our structures are categorically considered "portable" when covered with a tarp roof, and stand alone without a fixed connection to the ground, so they officially only required "temporary" permits just like all the pipe frame canopies so commonly used here. Now these permits are no longer available. However this is uninforceable this time.
Permanent Roofing Material – Our bamboo structures can use any standard building material and will last as long as their roofing material is maintained in good condition, which protects the frame from rain and direct sun.
Other roofing options: Polycarbonate – Mineral based, inexpensive, and very durable available in opaque to translucent colors and clear. Fiberglass Reinforced Composite – We have developed an exact replica of a grass roof with a woven mat ceiling on the underside, especially designed to attach to our bamboo frames, which is strong, long lasting and also insulates. Although this is a beautiful solution and an appropriate match for bamboo; the design must be a custom ordered, making it the most expensive option. Bamboo Reinforced Plaster Roof – The most heavy and durable choice suited to very organic shapes. It requires our highly experienced team for minimizing future maintenance issues. Natural covers – It would be possible to cover the bamboo frame with grass or palm thatch, but for practical durability reasons, in the rainy areas, a ceiling material, such as bamboo plywood, covered first with a moisture barrier would be recommended. Take a look at our other projects or products available for rent, lease or purchase.